Quick Tips to Help Protect Your Family
We are a Mississippi Licensed Contractor and all shelters exceed FEMA requirements.
Tornado Q&A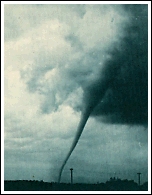 How quickly must I react to a tornado warning?
A tornado warning means a funnel cloud has been detected and you should take cover immediately. To give yourself an additional 15 minutes of warning time you can connect to a severe weather reporting app from the television station in the county west of your location. You can learn more about early warning systems available to you from the National Weather Service
Where should I take shelter?
The safest place to be during a tornado if you don't have a shelter is underground—for example, in a basement. If you can't get to a basement, seek shelter in an interior hallway or small interior room with no windows, like a bathroom or a closet. The best choice to fully protect you and your family is to be prepared with a F5 rated Shelter. Give David a call to learn more about the best option.
If I'm away from my home, what should I do?
If you're away from home when a tornado strikes, the same basic rules of survival apply: Remain calm and get to the lowest level possible, away from windows and free-span roofs.
TORNADO! The very word strikes fear in many people. While a tornado is perhaps nature's most destructive storm, deaths and injuries can be prevented. By following Tornado Safety Rules, lives can be saved and injuries prevented.Warning the public of severe thunderstorms and tornadoes is the National Weather Service's (NWS) most important job. To help the public prepare for tornado situations, the NWS has adopted a WATCH and WARNING program.
TORNADO WATCH: This means that conditions are favorable for tornado development. This is the time to prepare. You should keep alert by listening to NOAA Weather Radio, or the commercial media for the latest weather information.
TORNADO WARNING: This means a tornado has been sighted or indicated by radar. People in the path of the storm should take immediate life saving action.
IN SCHOOLS, HOSPITALS, FACTORIES, SHOPPING CENTERS AND OTHER PUBLIC PLACES: Move to designated shelter areas. Interior hallways on the lowest level are usually best. Stay away from windows and out of auditoriums, gymnasiums, or other structures with large free span roofs.
IN VEHICLES: Do not try to outrun a tornado. Abandon your vehicle and hide in a nearby ditch or depression and cover your head.